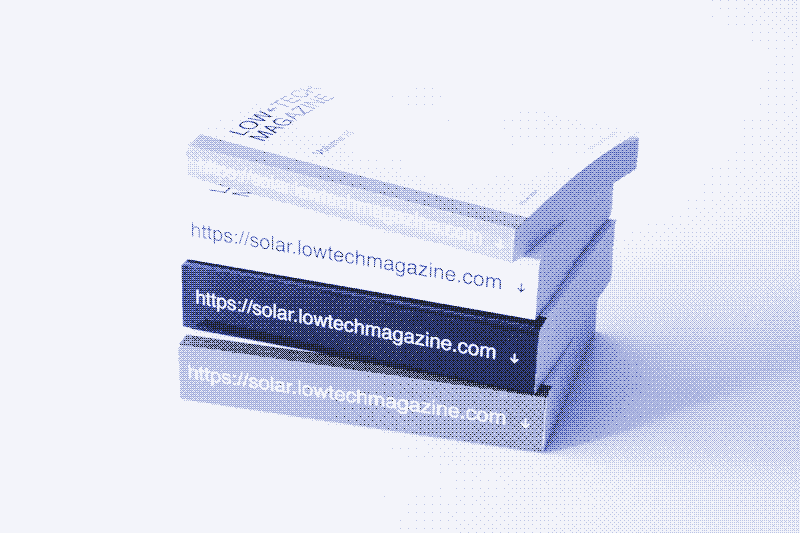 Image: The Printed Website.
View original image
View dithered image
Low-tech Magazine Volume III
The newest Low-tech Magazine book collects 18 articles published between 2018 and 2021. At 368 pages it's a thin book compared to earlier volumes. When we started the book series, the challenge was to unlock an archive of almost 12 years. It made sense to pack this content into as few volumes as possible.
However, looking ahead, we will publish more often, once every one to three years, depending on the number of articles written. From now on, the articles will be arranged chronologically, from oldest to newest, and no longer the other way around. This volume contains 184 images in black and white. It is also available in French (400 pages). here
Low-tech Magazine: The Comments
We also launched a book which collects almost 3,000 comments on the roughly 100 articles which are published in the three other books. This volume has 688 pages and no images. We included all feedback up to November 7, 2021. Read more about the comments book here.
Over the years, readers have often stated that the comments on the website are (at least) as interesting as the articles themselves. We agree. Low-tech Magazine would not have been even half what it is now without the comments. You can even take this literally, because this is one of the thickest books we have published so far, despite the extra small font we use.
New Edition
Finally, we have published a second edition of the first book we published in 2019. This new edition has almost twice as many images and follows the same design as the other volumes. In contrast to the first edition, the images are not "dithered" and of higher quality. We use a smaller font to pack more content on fewer pages. This second edition also fixes some errors in the articles and the references.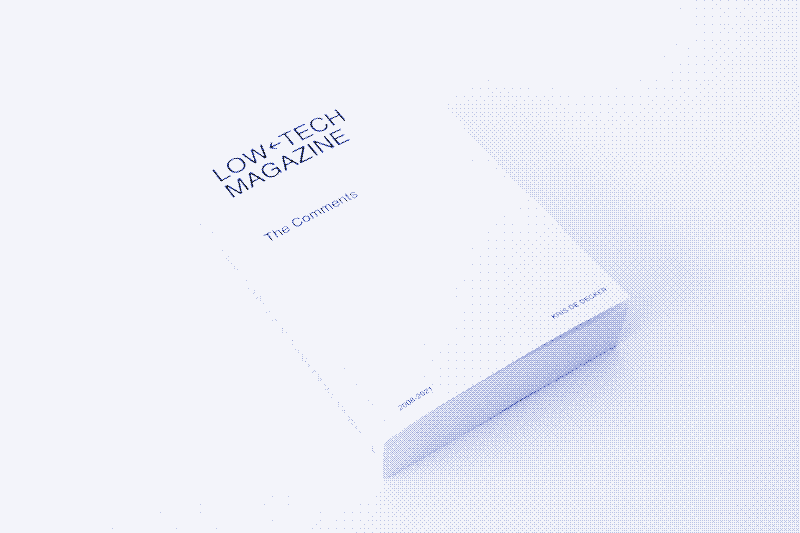 Image: Low-tech Magazine: The Comments (2008-2021).
View original image
View dithered image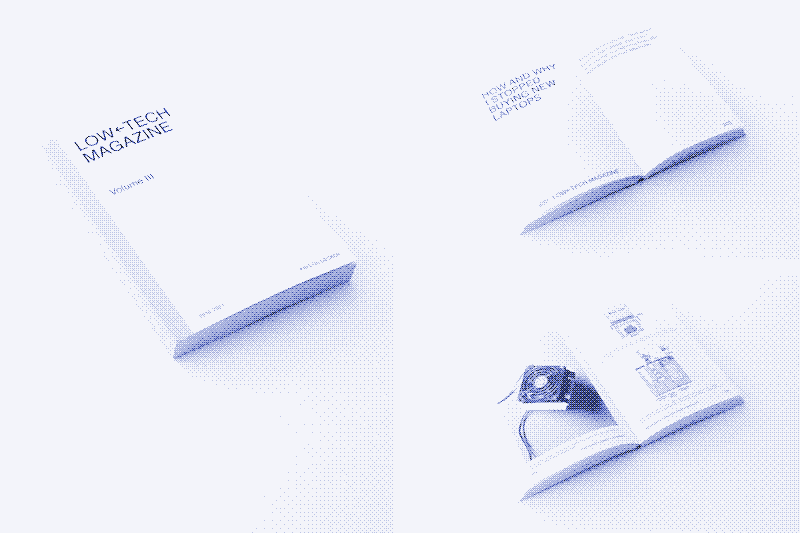 Image: Low-tech Magazine Volume III (2018-2021).
View original image
View dithered image
Contents Volume III
How Circular is the Circular Economy?
Keeping Some of the Lights On: Redefining Energy Security
Heat your House with a Mechanical Windmill
Reinventing the Small Wind Turbine
How to Make Wind Power Sustainable Again
Mist Showers: Sustainable Decadence?
Too Much Combustion, Too Little Fire
How Sustainable is a Solar Powered Website?
Fruit Trenches: Cultivating Subtropical Plants in Freezing Temperatures
Thermoelectric Stoves: Ditch the Solar Panels?
How to Make Biomass Energy Sustainable Again
How and Why I Stopped Buying New Laptops
Vertical Farming Does not Save Space
How Sustainable is High-tech Health Care?
Urban Fish Ponds: Low-tech Sewage Treatment for Towns and Cities
How to Design a Sailing Ship for the 21st Century?
How to Build a Low-tech Solar Panel?
Fascine Mattresses: Basketry Gone Wild
Print on Demand
The books are printed on demand, meaning that there are no unsold copies (and no large upfront investment costs). Our US publisher Lulu.com works with printers all over the world, so that most copies are produced locally and travel relatively short distances. Note that it takes 3 to 5 work days to print the book.
Low-tech Magazine Volume I (2007-2012). 
Low-tech Magazine Volume II (2012-2018).
Low-tech Magazine Volume III (2018-2021).