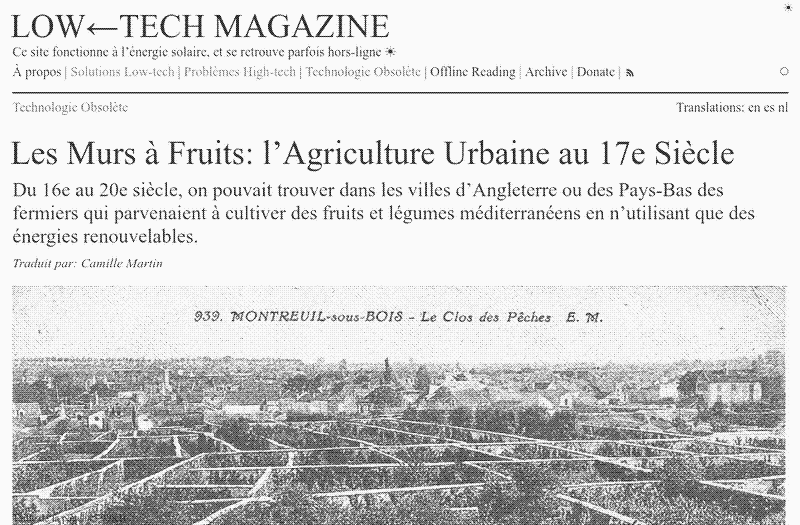 Many articles had been translated over the years, but they were not easy to find. Now, each language has its own solar powered main page.
The Spanish and French versions are the most complete for now, with respectively 36 and 20 articles online. Dutch, German and Polish main pages are also available, and we just received the first Russian and Italian translations. Some languages also have articles that are not translated into English.
Every language can be accessed by clicking on the large dot on the right side of the menu. There are also links to translations in the articles themselves.
Most articles have been translated by volunteers, whose names are mentioned just below the introduction. If you are interested in doing translations, please get in touch. If it concerns a new language, we'll also ask you to translate some site elements.
Several languages have their own e-mail newsletter: English, Spanish, French and Dutch. Subscribers will receive a maximum of twelve e-mails per year. There's a lot more content to add, so stay tuned.
Website design and development: Marie Otsuka
Content production: Kathy Vanhout
Translators (published): Aliana Bertolo, Alicia Bonnet, Jeanne Bowie, Benoît Bride, Albert Cuesta, Maud Crausaz, Sévérine D., Guillaume Dutilleux, Nathalie Fournier, Framalang, Benjamin G., Zeltia González Blanco, Augustin Isaac, Michal Kolbusz, Adrien Krauz, Benjamin Le Roux, Alexander López, Nekane López Azurmendi, Bertrand Louart, Camille Martin, Jordi Parra, Martin Randelhoff, Arnaud Robert, Angela Schult, Lauranne Tesson, José Vera.
This page will be updated as more articles and languages are added. Last update: March 21, 2020.
Comments
To make a comment, please send an e-mail to solar (at) lowtechmagazine (dot) com.