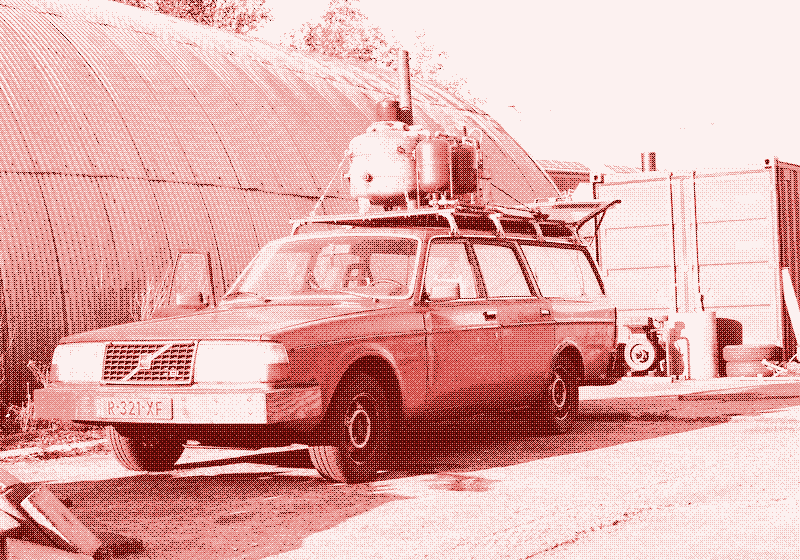 From wood gas to plastic waste
During the Second World War, many motorized vehicles in continental Europe were converted to drive on firewood. 1 That happened as a consequence of the rationing of fossil fuels. Wood gas vehicles were a not-so-elegant alternative to their petrol cousins, but their range was comparable to today's electric vehicles. In Germany alone, around 500,000 wood gas cars, buses, and trucks operated by the end of WWII. An even more cumbersome alternative was the gas bag vehicle. 2
Nowadays, there's much less firewood available than in the 1940s, especially in industrialized regions. So, what would be the solution to the disruption of gasoline or electricity in the Third World War? Dutch designer Gijs Schalkx found another fuel supply, which is abundant: plastic waste. The production of plastics only started in the 1950s, after the Second World War. Since then, plastic has become an increasingly popular material, growing to a global annual production of 460 million metric tons in 2019 – twice as much as in 2000 and eight times as much as in 1976. 34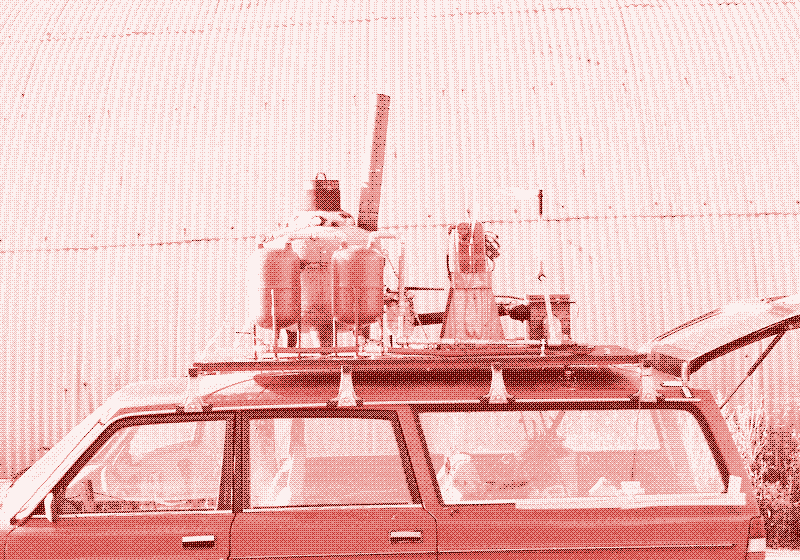 Plastics are made from fossil fuels, and the process can be turned around. Gijs Schalkx converted an abandoned Volvo 240 to run on diesel that he makes from the plastic waste he collects. The "de-refinery" converts plastic waste back into fuel and is installed on the luggage carrier of the car, making the vehicle independent of the fossil fuel infrastructure. The plastic waste is heated in a boiler to about 700 degrees Celsius, after which it evaporates. The gas is then cooled down, and turns into a diesel-like liquid one hour later. Gijs collects it in plastic bottles – themselves the raw material for the diesel they contain. The fuel looks like Coca-Cola – one of the largest producers of plastic waste.
How far can we drive on plastic waste?
Making fuel can happen while the car drives, but Gijs has kept the two activities separate for safety reasons. At a speed of 80 km/u, his Volvo 240 drives a distance of 7 kilometres per kilogram of plastic (which corresponds to 14 kg of plastic per 100 km driven). That includes the fuel used to heat up the plastic waste on the roof (1 kg of plastic gives 0.5 liter of diesel, so the fuel economy is 7.14 liters diesel per 100 km). Plastic waste is a rather voluminous material, and it takes several garbage bags full of plastic waste to make one liter of fuel. Schalkx plans to use a small shredder to reduce the volume of the plastic waste he collects, but for now he relies on a supply of discarded plastic granulate from a neighbour, consisting of PET and HDPE.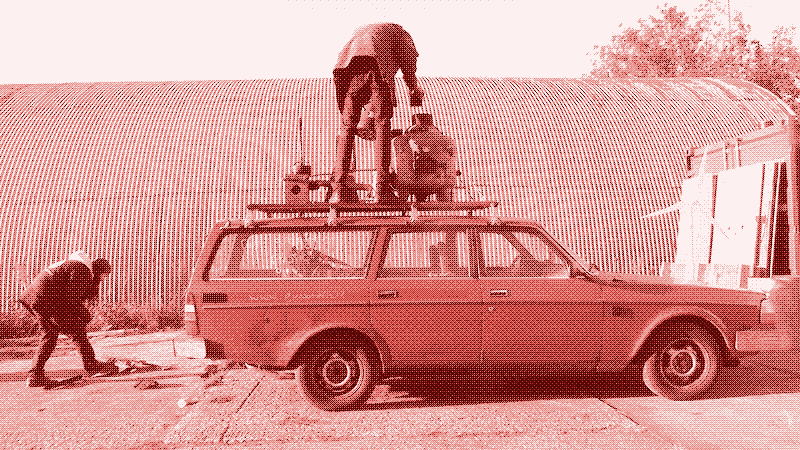 How far could we drive if we would convert all plastic waste into fuel? The Netherlands produced roughly 1,650 kiloton of plastic waste in 2017 (1,650,000,000 kg), enough to drive 11.55 billion km (11,550,000,000 km). 5 That corresponds to about 1/10th of kilometers driven by all passenger cars in the Netherlands in 2021 (114.3 billion km). 6 On a smaller scale, the average passenger vehicle in the Netherlands drives 12,000 km per year, requiring each driver and their passengers to collect 1,714 kg of plastic. On the other hand, even the current amount of plastic waste per capita in the Netherlands (97 kg) would be enough to drive 679 km – perhaps sufficient for those who use their automobile wisely. The amount of plastic waste grows faster than the number of cars so that we could drive increasingly longer distances in the future. 7
How sustainable is driving on plastic waste?
Being able to drive a vehicle on plastic waste has benefits in terms of resilience. For example, it could allow medics to operate ambulances without a regular fuel supply in a war zone. However, how does a vehicle driven on plastic waste performs in times of peace? After all, plastic waste is a huge problem, and Gijs Schalkx's car gets rid of it. With less than 10% of plastic waste recycled worldwide, would it make sense to encourage people to convert their vehicles to run on diesel oil made of plastic waste? Sure, it would be a more affordable alternative to electric cars, but what about the carbon emissions?
On the one hand, the embodied carbon emissions of the Volvo 240 are almost zero: Gijs found most components – including the car itself – in the dump, others on the second-hand market. 8 In contrast, manufacturing new vehicles – especially electric ones – adds a significant carbon footprint before they drive their first kilometer. They also need an extensive infrastructure to produce and distribute fuel and electricity, adding more carbon emissions. In contrast, the Volvo has its fuel infrastructure on the roof, built from scrap.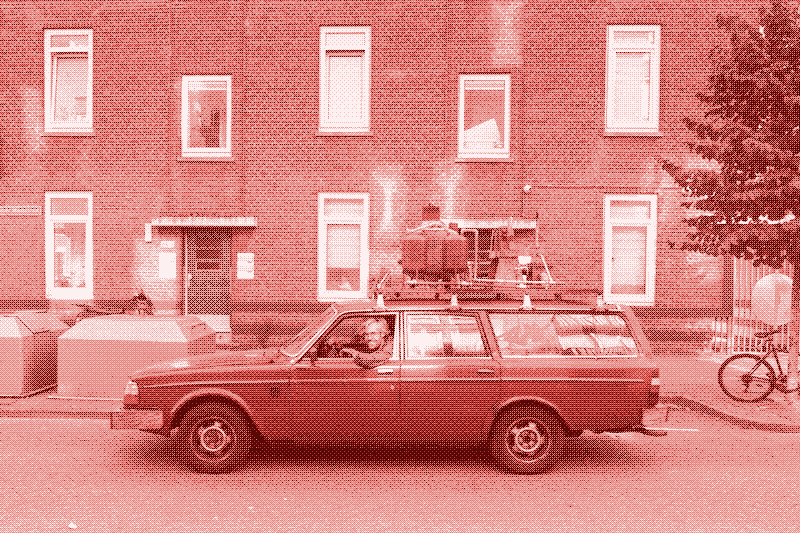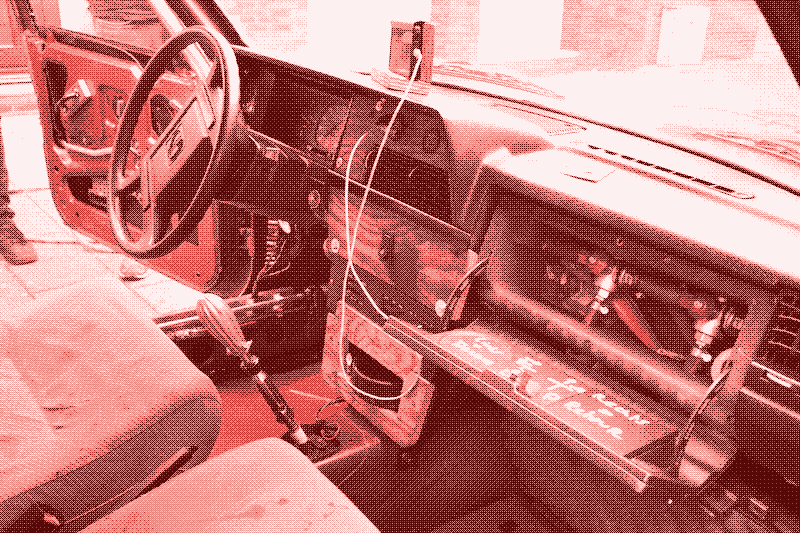 On the other hand, the CO2-emissions from the fuel production and the fuel combustion are not praiseworthy. First, there is the burning of plastic on the roof of the car. Making 1 liter of diesel requires the burning of 1 kg of plastic, which results in 2-2.7 kg carbon emissions. 9 Second, there is the combustion of the diesel fuel while driving, which emits 2.7 kg of carbon dioxide per liter. 10 Together, that becomes 4.7 to 5.4 kg CO2 per liter. Consequently, with a fuel economy of 7.14 liters per 100 km, the Volvo emits 33.6 to 38.6 kg of greenhouse gases per 100 km.
In contrast, the emissions of the average fossil fuel powered car in Europe amount to 25.8 kg/100 km, including crude oil production, fuel refining and vehicle manufacturing. 11 The emissions of a small electric car like the Nissan Leaf amount to 10.9 kg/100km in Europe, including the emissions of the fuel that is burned to produce the electricity. 11 The Volvo thus emits 1.5 times more CO2 than the average fossil fuel powered car in Europe, and 3 to 4 times more than a small electric car. The difference will be somewhat smaller, because the data for the other cars do not include the emissions for building the oil and power infrastructure. However, this is unlikely to tip the balance.
There are several reasons for the high carbon emissions. First, fuel production by burning plastic on the roof is four times more carbon intensive than producing fuel from crude oil in a refinery. 12 Second, the Volvo dates from 1980, when cars had lower fuel economy. Gijs Schalkx: "Hypothetically, you could convert a newer car to drive on plastic waste and have much lower carbon emissions. Likewise, the de-refinery is one of the first of its kind and could be made more efficient by real engineers. Oil refineries have been developped for more than 100 years. However, newer cars have proprietary electronic motor controls that prevent using alternative fuels."
Externalizing pollution
Carbon emissions are not the only worry. Because of the chemicals added to plastic, burning it to make fuel creates a lot of nasty air pollution. Nobody in their right mind will propose a switch to cars fuelled by plastic waste. However, it is instructive to examine the motives behind this unanimous conclusion. Much of the plastic waste that the Volvo 240 burns burns anyways. Not in cars but incinerators. That is the case for 44% of plastic waste in Europe. 13 That plastic waste burns to produce electricity, which can then charge electric cars. How is that more sustainable than burning plastic on the roof of your car?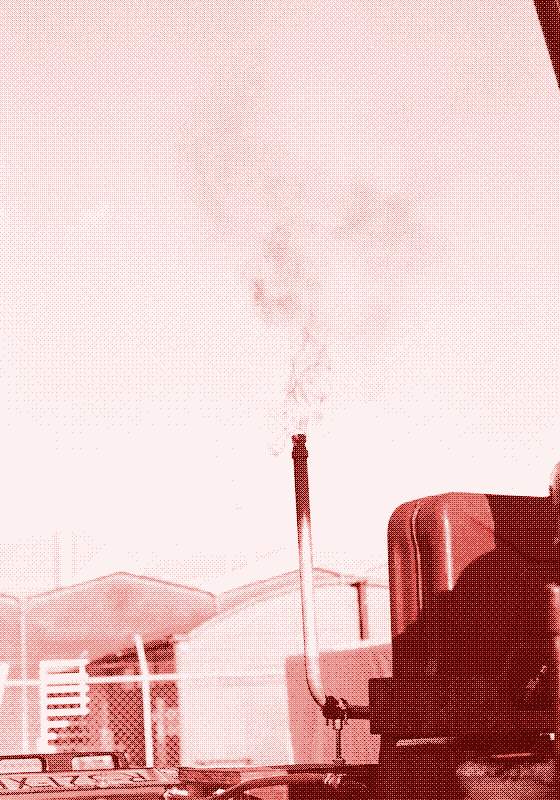 The carbon emissions are the same. So is the air pollution, although it's easier to put a flue gas scrubber on thousands of incinerators than on millions of cars. The main difference is that burning plastic waste in incinerators to power electric cars allows many of us to externalize the side effects of car driving. An incinerator can be (and always is) located in a poor neighbourhood, where it causes high incidences of cancer and other health problems in spite of air pollution control. Meanwhile, it produces electricity that charges electric cars which drive around low emission zones in well-to-do neighbourhoods.
Internalizing pollution
In contrast, Schalkx's Volvo internalizes all the side effects of driving automobiles. The car is not a pleasure to drive, at least not regularly. It is dirty. Its interior stinks of plastic, which cannot be healthy – Gijs keeps the car windows open no matter the weather. Furthermore, he needs to spend a lot of time collecting plastic and making fuel, and all these disadvantages make him think twice before he gets behind the wheel. It's unlikely that Schalkx will drive 12,000 km per year, and so, ultimately, he will produce less pollution than the drivers of more sustainable-looking cars that face none of these problems.
Somehow, the Dutch authorities, who are not known for their permissivity, officially approved the car after inspection. Schalkx drives tax-free and – thanks to his car being an oldtimer – can enter low-emission zones, where he parks alongside the latest electric SUV. Justice is not yet out of this world.